Sutimlimab in Patients with Cold Agglutinin Disease: Results of the Randomized Placebo-controlled Phase 3 CADENZA Trial
Author(s):
Alexander Röth
1
,Sigbjørn Berentsen
2
,Wilma Barcellini
3
,Shirley D'Sa
4
,Bernd Jilma
5
,Marc Michel
6
,Ilene C. Weitz
7
,Masaki Yamaguchi
8
,Jun-ichi Nishimura
9
,Josephine M. I. Vos
10
,Michael Storek
11
,Nancy Wong
11
,Parija Patel
11
,Xiaoyu Jiang
11
,Deepthi S. Vagge
12
,Marek Wardęcki
13
,Frank Shafer
11
,Michelle Lee
11
,Catherine M. Broome
14
Source: https://doi.org/10.1182/blood.2021014955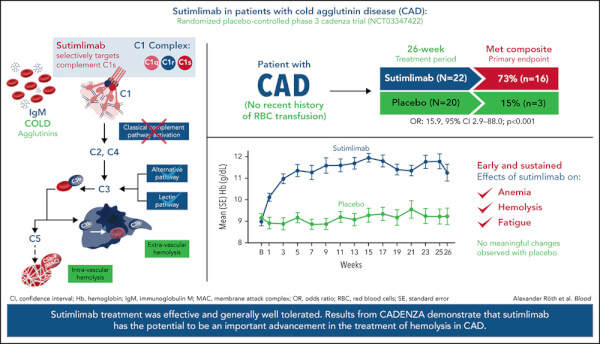 ABSTRACT
Sutimlimab, a first-in-class humanized immunoglobulin G4 (IgG4) monoclonal antibody that selectively inhibits the classical complement pathway at C1s, rapidly halted hemolysis in the single-arm CARDINAL study in recently transfused patients with cold agglutinin disease (CAD). CADENZA was a 26-week randomized, placebo-controlled phase 3 study to assess safety and efficacy of sutimlimab in patients with CAD without recent (within 6 months prior to enrollment) transfusion history. Forty-two patients with screening hemoglobin ≤10 g/dL, elevated bilirubin, and ≥1 CAD symptom received sutimlimab (n = 22) or placebo (n = 20) on days 0 and 7 and then biweekly. Composite primary endpoint criteria (hemoglobin increase ≥1.5 g/dL at treatment assessment timepoint [mean of weeks 23, 25, 26], avoidance of transfusion, and study-prohibited CAD therapy [weeks 5-26]) were met by 16 patients (73%) on sutimlimab, and 3 patients (15%) on placebo (odds ratio, 15.9 [95% confidence interval, 2.9, 88.0; P < .001]). Sutimlimab, but not placebo, significantly increased mean hemoglobin and FACIT-Fatigue scores at treatment assessment timepoint. Sutimlimab normalized mean bilirubin by week 1. Improvements correlated with near-complete inhibition of the classical complement pathway (2.3% mean activity at week 1) and C4 normalization. Twenty-one (96%) sutimlimab patients and 20 (100%) placebo patients experienced ≥1 treatment-emergent adverse event. Headache, hypertension, rhinitis, Raynaud phenomenon, and acrocyanosis were more frequent with sutimlimab vs placebo, with a difference of ≥3 patients between groups. Three sutimlimab patients discontinued owing to adverse events; no placebo patients discontinued. These data demonstrate that sutimlimab has potential to be an important advancement in the treatment of CAD. This trial was registered at www.clinicaltrials.gov as #NCT03347422.
Author Affiliations
1Department of Hematology and Stem Cell Transplantation, West German Cancer Center, University Hospital Essen, University of Duisburg-Essen, Essen, Germany;2Department of Research and Innovation, Haugesund Hospital, Haugesund, Norway;3Fondazione Istituto di Ricovero e Cura a Carattere Scientifico (IRCCS) Ca' Granda Ospedale Maggiore Policlinico, Milan, Italy;4UCLH Centre for Waldenström's Macroglobulinemia and Related Conditions, University College London Hospitals National Health Service (NHS) Foundation Trust, London, United Kingdom;5Department of Clinical Pharmacology, Medical University of Vienna, Vienna, Austria;6Henri-Mondor University Hospital, Assistance Publique-Hôpitaux de Paris, Université Paris Est Créteil (UPEC), Créteil, France;7Jane Anne Nohl Division of Hematology Keck-University of Southern California (USC) School of Medicine, Los Angeles, CA;8Department of Hematology, Ishikawa Prefectural Central Hospital, Kanazawa, Japan;9Department of Hematology and Oncology, Osaka University Graduate School of Medicine, Osaka, Japan;10Department of Hematology, Amsterdam University Medical Centers (UMC) & Sanquin, Amsterdam, The Netherlands;11Sanofi, Cambridge, MA;12IQVIA, Bangalore, Karnataka, India;13Sanofi, Warsaw, Poland; and14Division of Hematology, MedStarGeorgetown University Hospital, Washington, DC